2015-02-25
Most bodybuilders want a pair of impressive traps. Traps is short for trapezius. Most bodybuilders believe that the traps are the muscle groups only seen from the front, like on this picture. But the fibers of the trapezius run in three different orientations and, therefore, can be divided into three sections: upper, middle and lower part. Bodybuilder, also the recreational want impressive traps. Powerlifters and weightlifters are just concerned in functional traps, they want traps that generate enough power to lift impressive weights.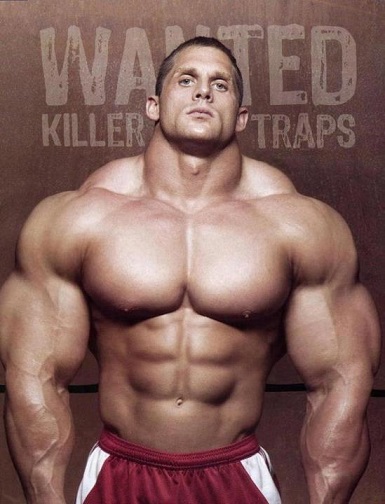 "Killer Traps," along with a broad chest and big biceps, are one of the major signs that "that guy must work out."
If you trapezius is a lagging muscle groups, you are lucky cause you might or might not know, that muscle-groups react differently to anabolic androgenic steroids, and the trapezius grows more than most muscle groups.
That is a positive thing, but can also be bad, since the trapezius muscles are also involved in our posture and can cause back pains and neck pains.
First let me explain about the difference in adaption to training and steroids. A lot of what we learn from this study is already known by us iron addicts. Still it is very interesting to read Anders Erikssons dissertation from the Umeå University: "Strength Training and Anabolic Steroids: A comparative study of the vastus lateralis, a thigh muscle and the trapezius, a shoulder muscle, of strength-trained athletes".
More news...